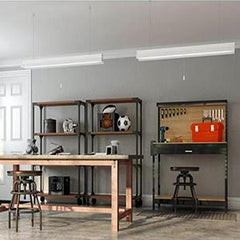 Looking for a great solution to brighten up your garage or workshop?  These LED Hanging and Flush Mount shop light fixtures are bright, easy to install and the perfect solution.  With our wide selection of products you can choose from 8 FT LED Shop Light Fixtures, 2 FT Integrated LED water Vapor Tight fixtures, 4 FT White Flush Mounts and LED Hanging Plug-in Shop Light fixtures.  LED Bulbs are included as well as pull chain on/off cords for hanging fixtures. 
Our LED tubes are extremely bright (3000 lumens – the equivalent of two 100w incandescent bulbs or two 48w fluorescent T8 bulbs) and rates to last for almost 11 years if you use them 12 hours a day 365 days a year!  If you're looking to lower your operating costs, LED fixtures can save as much as $36 in energy cost every year if they are on 24/7. 
These Hanging and Flush Mount LED Shop Lights are specifically made for workshop areas and recommended for garages, shops and other work areas.