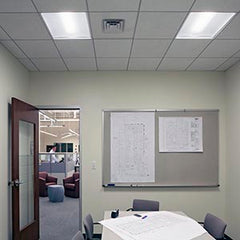 Time to replace your old fluorescent troffers with longer lasting, efficient LED troffers.  These recessed light fixtures provide more lumens with less wattage required which saves you money without sacrificing light output. 
These LED troffers last up to 50,000 hours of use, are easy to install and contain no mercury or other harmful substances. 
Orilis Lighting Solutions offers 4FT 96W High Bay Ceiling Fixtures as well as an Integrated 4FT 45W High Bay Troffer Backlit Grid Ceiling Light Fixture.  
LED Troffer Light Fixtures