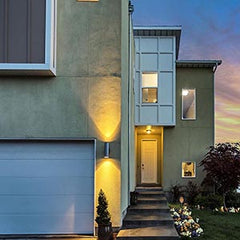 Outdoor residential light fixtures - curb appeal in a snap
Many home owners neglect exterior home illumination. However, outdoor spaces are one of the most important places to add light. At night, outdoor areas can be dangerous for your family and guests. Unlit houses are also hard to see from the street, and have no nighttime curb appeal. It's easy to beautify and add nighttime safety to your property with outdoor lighting fixtures. Outdoor lighting can also help your home stand out from your neighbors.
Improve your home's curb appeal and value by choosing outdoor wall lighting that enhances your home's exterior. Installed on your patio, front porch, next to your garage doors and entryway, or in any other high-traffic outdoors area, these lights are an essential part of your home. A fixture as simple as an _____  can really make a difference for the safety and security of your home.
From the front of your home to the backyard deck, our residential outdoor light fixtures come in a wide variety of sizes and styles, ensuring there is something for anyone's design tastes. Find the very latest designs in outdoor lights at Orilis - from traditional bronze sconces to modern carriage lights. Outdoor lights have durable shades made from metal or weather resistant plastic or glass, designed to keep the light shining all year round.
No products found in this collection.