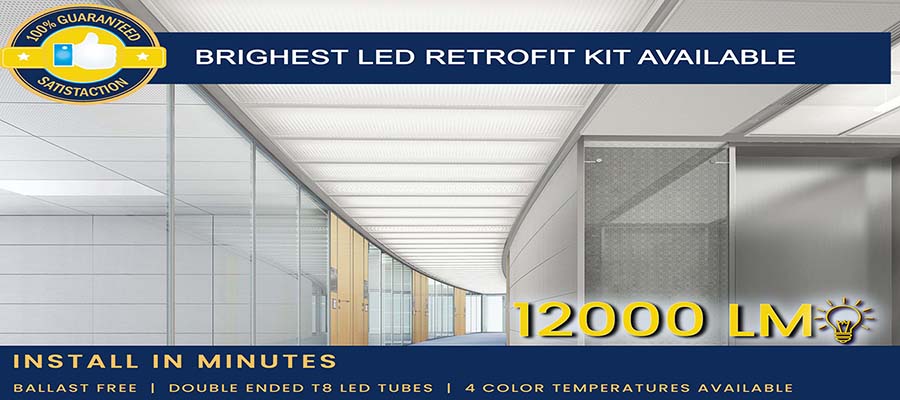 T8 LED tubes, also known as T8 lamps or T8 LEDs, are energy-efficient replacements for T8 or T12 fluorescent tubes. If you are ready to upgrade your fluorescent lighting to LEDs, a T8 LED retrofit conversion is a great alternative to buying new LED fixtures. Rewiring a T12 or T8 fluorescent fixture is easy with the Orilis 4-Light Fluorescent to LED Retrofit Conversion Kit. 
T8 LED Retrofit Instructions
These instructions explain the steps necessary to retrofit a T12 or T8 fluorescent fixture to LED. These instructions are for reference only and are intended for qualified electricians or lighting technicians. These instructions are for T8 Double Ended LED Tubes only! These instructions will not work for Single Ended LED tubes.
1. Disconnect power to fixture at source. DO NOT SIMPLY SWITCH OFF FIXTURE. Warning: Risk of electric shock! Ensure that power is off when doing retrofit/installation.
2. Unpack the LED Tubes. If necessary, remove plastic caps from ends of LED tubes.
3. Open the fixture housing. Cut wires and remove ballast. Remove the starter if exists. Dispose of removed ballast and fluorescent lamps in accordance with government regulations in your area.
4. If the sockets (lamp holders/tombstones) in your fixture are in poor condition, replace them with the sockets included in Retrofit Kit.
Remove any brackets or covers holding sockets in place.
Cut and remove all wires from the sockets.
Reinstall sockets and any socket covers.
5. Re-connect the Hot (L) wire to one end and Neutral (N) wire to the other end of the tube. All connections should be made using wire nuts.
6. Check to ensure wiring is done correctly then close the fixture hosing. Note that once a fixture is wired for T8 LED, you can no longer put fluorescent lamps in the fixture.
7. Install LED tubes into the sockets. Turn the tubes until they are locked into place.
8. Re-connect power to the fixture and turn on switch.
Use these instructions to easily convert your existing fluorescent lights to LED. The Orilis 4-Light Fluorescent to LED Retrofit Conversion Kit includes 4 LED T8 24 watt double-ended light bulb tubes and all needed sockets and wires and comes with a 5 year manufacturer's warranty and free shipping. 
Shop Orilis LED Lighting Solutions for all your LED Lighting needs.